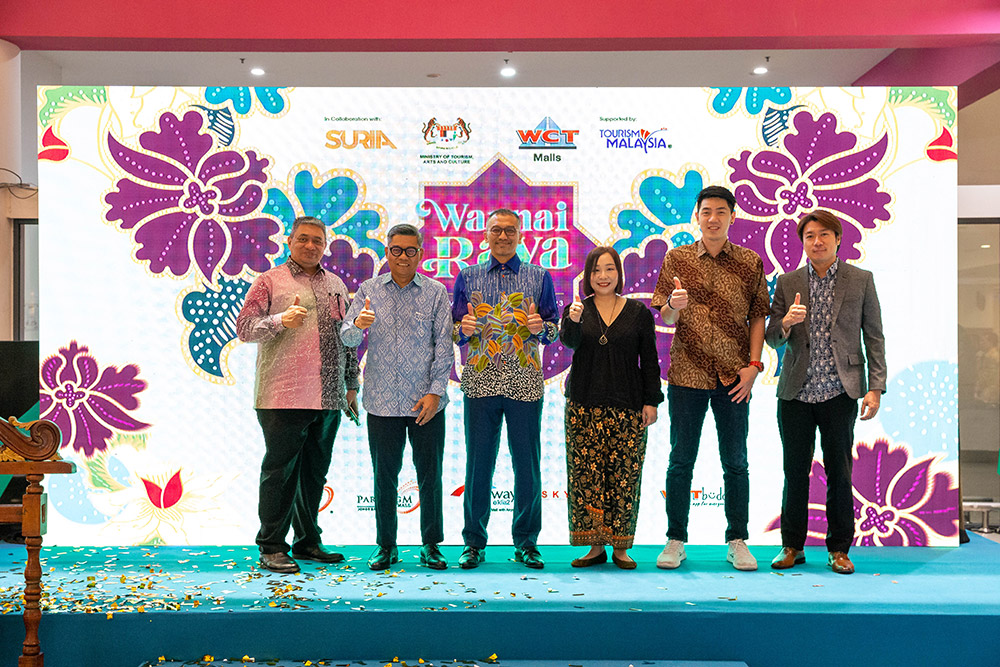 SEPANG, 21 March 2023 – WCT Malls Management Sdn Bhd, the property investment and management business under WCT Holdings Berhad ("WCT Group") unveiled its Warnai Raya festive celebration theme in collaboration with SuriaFM Station and Tourism Malaysia to welcome the 2023 Ramadan and Hari Raya festive season at WCT Malls - Paradigm Mall Petaling Jaya, Paradigm Mall Johor Bahru, gateway@klia2 and SkyPark Terminal.
This partnership aims to promote Malaysia as a top destination for cultural experiences, especially during the Raya festivities. The "Warnai Raya" campaign that is slated for 17 March 2023 to 7 May 2023 will feature meet and greet sessions with SuriaFM DJs, traditional Malay dances, batik drawing activities, batik fashion show, Ramadan bazaars, Hari Raya festive booths, limited-edition green packet giveaway, as well as Batik premiums redemption.
The collaboration between WCT Malls and SuriaFM is aimed at providing an avenue for local artists to showcase their talents while highlighting the diversity and richness of Malaysia's culture. In complementing this effort, the concourses across WCT Malls will be transformed to a Batik Factory made of wooden kampung structures together with floral batik motifs that reflects the country's rich heritage, culture, and traditions. Shoppers who visit the Batik Factory at the concourse can also grab the opportunity to take Instagrammable photos while immersing themselves in the many activities and performances available during the campaign.
Selena Chua, Chief Executive Officer – WCT Malls Management said, "WCT Malls constantly strives to explore innovative and exciting ways to organise events, activities and promotions. As we approach the holy month of Ramadan and Hari Raya Aidilfitri, we are humbled to be collaborating with SuriaFM to support local entertainment and to foster a sense of belonging among the community surrounding our malls during this significant festive celebration in Malaysia and globally.
As the Holy Month of Ramadan and Hari Raya celebrates forgiveness, gratitude, and togetherness, we hope that the WCT Malls "Warnai Raya" campaign, in partnership with our local radio station will bring people together and create a sense of harmony and unity.
In addition, WCT Malls is also partnering with the local communities and organisations to organize various events including Batik exhibitions, Jawi Calligraphy workshops, Wayang Kulit shows by the Malaysia Property Association, Batik Painting workshops by Malaysian Cultural Kampung, Ketupat Hunt at Paradigm Mall PJ, Raya bazaars, and workshops – all to cultivate and celebrate the rich and diverse culture of the Malay heritage."
Dato Dr Mohd Aminuddin bin Mohd Rouse, Chairman of Star Media Group, said, "We are delighted to be partnering with WCT Malls for the "Warnai Raya" campaign. As a media group, we believe in the power of storytelling and we look forward to sharing the stories of our people, culture, and traditions that make the Raya season special. We hope that our collaboration will help to spread festive cheer and encourage more people to join in the celebration."
Meanwhile, YB Dato Sri Tiong King Sing, Minister of Tourism, Arts & Culture Malaysia, also expressed his support for the campaign, "The "Warnai Raya" campaign not only promotes our cherished heritage to a wider audience but also supports local artists and artisans by providing them with a platform to showcase their talents and sell their unique creations."
"One of our first collaborations with WCT Malls was last year's successful ShoppingExtravaganza! Campaign, which generated RM2.7 million in sales. We are delighted to continue this partnership and we are optimistic that the tourist reward programme will not only incentivise international tourists to spend more, especially in the shopping segment, but also drive significant growth in the travel industry, and ultimately, contribute to the economic development of our nation," added Dato Sri Tiong.
WCT Malls is also delighted to announce its joint efforts with Tourism Malaysia in promoting Malaysia's rich cultural festivities to international tourists by showcasing the beauty of Batik at all WCT Malls, adding the unique Malaysian experience for both local and international visitors.
In conjunction with the "Warnai Raya" campaign, WCT Malls is also partnering with Visa Malaysia and Tourism Malaysia to launch a tourist reward programme in providing exciting travel incentives during this festive season. From 1 April 2023 to 30 September 2023, international shoppers who spend a minimum amount in participating WCT Malls will be rewarded with a complimentary Starbucks drink. The available selection will include Caffe Latte, Americano, Freshly Cold Brewed, Caramel Frappuccino, and Mocha Frappuccino. A total of 10,000 cups of complimentary Starbucks drink will be rewarded to eligible international shoppers on a first come first served basis.
On the other hand, in collaboration with Grab PayLater, WCT Malls will also be launching its 10th Voucher Bonanza Sales, starting from 1 April to 30 June 2023. Voucher Bonanza Sale offers 20% off for shoppers who purchase WCT e-vouchers which can be used at over 300 participating outlets across WCT Malls, namely Paradigm Mall PJ, JB, and gateway@klia2. There are total of RM 300,000 WCT Malls' e-voucher up for grab, shopper who purchase RM100 only need to pay RM80 to enjoy the full RM100. Shoppers can purchase the e-vouchers at bit.ly/WCTMALLS-VBS9.
During this Raya season, WCT Malls is excited to offer Grab PayLater users even more ways to save. Shoppers who uses GrabPay's Buy Now Pay Later feature to shop at WCT Malls will be entitled to an additional RM 30 off on their purchase with a minimum spend of RM 200 required.
Other highlights and public activities that will take place at WCT Malls during the 1-month Hari Raya celebration are as follows:
Paradigm Mall PJ
1) Buka puasa with Suria DJs
2) Batik drawing/ colouring competition
3) Ketupat hunt
4) Tarian Ghazal
5) Tarian Warisan
6) Negeri Sembilan
7) Tarian Zapin
8) Instrumental performance
9) Ketupat making workshops
10) Paper cutting workshop
11) Good Times' Pottery Clay workshop
12) Raya bazaar
13) Facebook Live on Buka Puasa options and promotions
14) Online contest on Tik Tok, such as Best Raya Dress #OOTD
Paradigm Mall JB
1) Raya promotion booth & Ramadan bazaar
2) Buka puasa with Suria DJs
3) Batik exhibition with Kraftangan Malaysia and local batik vendor
4) Batik fashion show
5) Malay busker performance
6) Wayang kulit show by Malaysia Property Association
7) Ghazal Johor
8) Zapin dance
9) Inang dance
10) Yamaha student concert
11) Moroccan inspired candle holder's workshop
12) Jawi calligraphy workshop
13) Batik painting workshop by Malaysian Cultural Kampung
14) Cooking demonstration by Master chef
15) Batik Fashion contest
gateway@klia2
1) Raya promotion booth & Ramadan bazaar
2) Buka puasa with Suria DJs
3) Batik T-shirt Activity
4) Tarian Zapin Performance
5) Batik Painting Activity
6) Kids Batik Costume Competition
7) Ghazal Performance
8) Caklempong Performance
9) Berbuka Puasa with SuriaFM
10) Glass Painting Activity
11) Batik Bag Activity
SkyPark Terminal
1) Batik Painting Workshops
2) Ketupat Weaving Workshops
3) Malay Calligraphy
4) Buka puasa event
5) Bubur Lambuk giveaway
6) Traditional Dance & Musical Performance
Exclusive Gift with Purchase for WCT Buddy member, Standard Chartered cardholder and Maybank cardholder
Paradigm Mall PJ Redemption Period: 1 January 2023 to 5 February 2023
Paradigm Mall JB Redemption Period: 30 December 2022 to 5 February 2023
gateway@klia2 & SkyPark Redemption Period: 1 January 2023 to 5 February 2023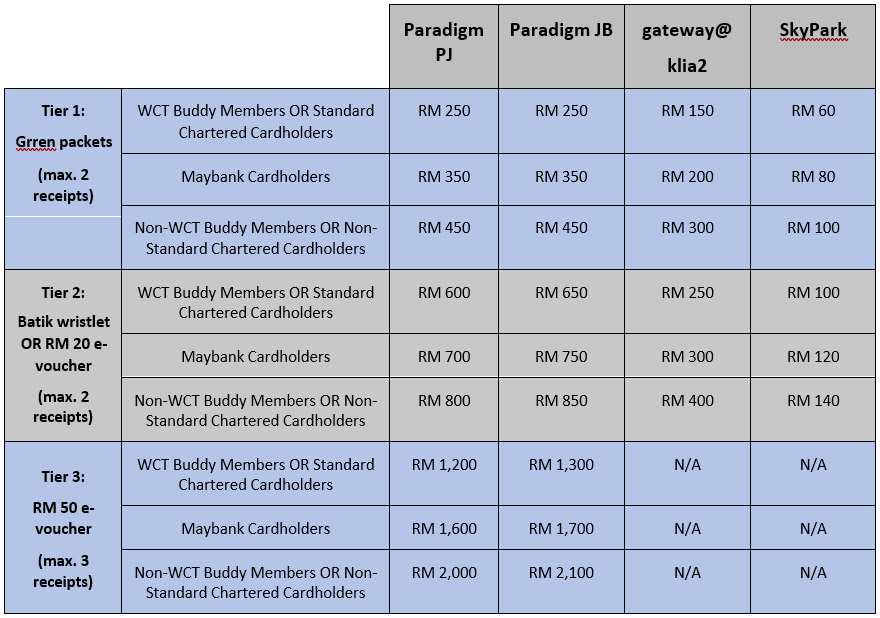 On top of that, Maybank cardholder who spend RM 250 and above with a maximum 3-combined- receipts in any WCT Malls will also be rewarded for 2x WCT Buddy points.
For more information about the festivities and promotions, kindly visit the following:
Websites:
Paradigm PJ: www.paradigmmall.com.my
Paradigm JB: www.paradigmmall.com.my/jb
gateway@klia2: www.gatewayklia2.com.my
Skypark Terminal: www.subangskypark.com
Facebook Pages:
Paradigm PJ: https://www.facebook.com/ParadigmPJ/
Paradigm JB: https://www.facebook.com/ParadigmJB/
gateway@klia2: https://www.facebook.com/gatewayklia2/
Skypark Terminal: https://www.facebook.com/SubangSkyPark/
Click here to read original article from tourism.gov.my.